Tea Tree Oil Uses for Skin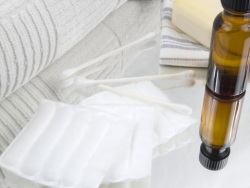 Tea Tree oil uses are so numerous, it is frequently dubbed a "first aid kit in a bottle."
Tea tree oil is an essential oil derived from the leaves of the Melaleuca tree, which is native to the northeast coast of New South Wales, Australia.
Australian aborigines have been using tea tree oil for it's healing properties for centuries.
Tea tree oil benefits and healing properties are seemingly endless, making it one of the most versatile essential oils.
If you are considering adding tea tree oil to your natural skin care arsenal, these tea tree oil uses will ensure you make the most of your purchase.
Acne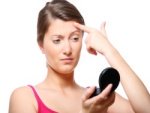 Move over conventional acne treatments, you aren't the only game in town! The antiseptic benefits of tea tree oil help fight and banish blemishes.
Treating acne is probably the most popular of tea tree oil uses, and rightfully so.
A 1990 study conducted by New South Wales Royal Prince Alfred Hospital determined tea tree oil, though slower acting, to be just as effective as benzoyl peroxide while causing less dryness, stinging, and redness.
Tea tree oil is great for use on acne prone and oily skins, however it is not reccommended for people with Acne Rosacea.
Tea tree oil is very simple to use, as it can be applied directly to acne and pimples with a cotton ball.
Tea tree oil is also perfect for use in natural skin care recipes for acne. If you have oily skin, try this natural acne skin care recipe to help cut down the shine:
Tea Tree Oil Skin Toner
¼ cup distilled water
¼ cup witch hazel
1 teaspoon tea tree oil
Insect Bites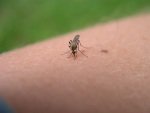 Taking the sting and itch out of insect bites is yet another way to use tea tree oil.
Tea tree oil can be applied directly to the bite using a clean cotton ball.
To prevent the buggers from bugging you in the first place, you can purchase a natural insect repellent containing tea tree oil, or you can create your own at home using this easy recipe:
Tea Tree Oil Insect Repellent
3oz Distilled water
1oz Witch hazel or aloe vera juice
24 drops of tea tree oil
Minor Cuts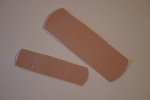 Cut your finger or scrape your knee? Look no further than tea tree oil!
The antiseptic and antibacterial properties have been documented in Australian medical journals since the late 1920's, making wound healing one of the more popular tea tree oil uses.
Used by the Australian Army during WWII as an antiseptic, tea tree oil has been proven to be just as effective as iodine in disinfecting minor cuts, scrapes and wounds.
While tea tree oil can be applied directly to a cut, it can be too irritating for some. To prevent irritation, a few drops of tea tree can be added to a vegetable/carrier oil of your choice.
Sunburn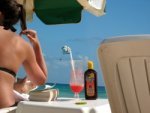 Spending a day at the beach is a favorite summer pastime, but it's also a sure fire way to end up with a sunburn if we're not careful.
This is why always using a natural sunscreen is so important.
Treating sunburn, is one of the lesser known tea tree oil uses, however, the analgesic properties make it effective at reducing the pain and inflammation of minor burns, including sunburns.
To take advantage of tea tree oil's benefits for sunburn, simply add 2-3 drops to aloe vera gel or the carrier oil of your choice (ie: Coconut Oil and Olive Oil.
Knowing these and the many other tea tree oil uses can save you both time and money. With so many uses and benefits, tea tree oil is a must for any natural skin care lover.
Looking for more information on Natural Skin Care Oils?
---
---
Return from Tea Tree Oil Uses to Natural Skin Care Oils
---
Disclaimer
This site was created in order to share information about the benefits of choosing natural skin care, and should not be construed as a substitute for medical treatment or diagnosis. The claims about ingredients and products throughout this site have not been evaluated by the US Food and Drug Administration, and are not intended nor approved to treat, cure, diagnose or prevent disease.