Why Natural Deodorant is Better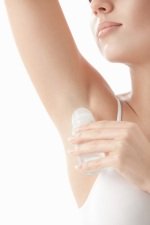 Switching to an all natural deodorant is one of the smartest skin care decisions you can make.
Conventional antiperspirants and deodorants are filled with potentially toxic ingredients including:
Aluminum
Parabens
Propylene glycol
Triclosan
Synthetic fragrances
Aluminum, the sweat blocking ingredient found in most conventional antipersirant deodorants, is a known neurotoxin and suspected contributor to Alzheimer's disease, chemical sensitivities, and breast cancer.
Parabens also appear to be cause for concern. Scientists believe the parabens used in most deodorants and antiperspirants could be responsible for accelerating the growth of tumors in the breast.
Studies have found that women are eight times more likely to develop breast cancer in the area of the breast closest to the armpit, than in any other part of the breast tissue. Read this BBC report for more information on parabens in deodorant .
Ditching Your Toxic Antiperspirant
Sweating is a good thing. It is a natural bodily function we really shouldn't tamper with.
To prevent sweating, antiperspirants work by clogging, closing, or blocking pores with powerful astringents like aluminum salts.
This interferes with the body's ability to regulate it's temperature and eliminate toxins, two very important functions.
It is also believed that once an antiperspirant wears off, the underarm sweat glands increase perspiration production to compensate. This creates a visious, sweaty cycle we need more antiperspirant to fight.
Deodorants, on the other hand, neutralize body odor while also killing odor causing bacteria. Since they do not interfere with the body's natural processes, deodorants are the better choice.
The culprit of body odor isn't sweat. In fact, fresh perspiration is odorless.
However, when our sweat mixes with airborne bacteria - Houston, we have an odor problem!
We can easily prevent body odor by killing odor causing bacteria, and this can be done without potentially toxic chemicals.
Choosing a Natural Deodorant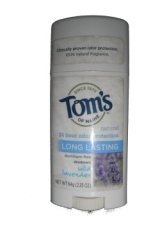 Finding a safe, all natural deodorant that works can be quite the frustrating task for sure. Seemingly natural products sometimes turn out to be not so natural at all.
Even products produced by well meaning manufacturers who try limit the toxicity of their products, can fall short.
I was very disappointed to find that my Tom's of Maine deodorant wasn't as natural as I thought it was.
The packaging looks harmless enough with phrases like "100% natural fragrance" and "natural 24 hour odor protection" proudly displayed on the label.
After a closer look at the ingredient list, I found it contained propylene glycol which studies suggest causes damage to the kidneys, lungs, heart and nervous system.
I truly thought I was doing a good thing for myself by purchasing this "natural" deodorant, but I quickly found out that not all so-called natural skin products are really "natural."
While the task of finding a safe deodorant is frustrating, it is not impossible. Always read the ingredient list, and stick to deodorants that contain a blend of antibacterial essential oils instead of toxic chemicals and synthetic fragrances.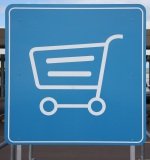 When shopping for natural deodorants, be cautious of "natural" deodorant crystals which are based on aluminum salts.
It's probably best to err on the side of caution and steer clear of these deodorants since it is still unclear whether or not they expose us to the same amounts of aluminum as conventional deodorants.
If you are homemade beauty lover, you might consider trying out natural skin care recipes to make your own homemade deodorant. This way, you will know EXACTLY what you are putting on your skin.
If you are not the kitchen cosmetic type, don't worry. There are plenty of natural skin care brands that offer safe all natural deodorants.
Making the Switch
One last thing to consider when making the switch to a natural deodorant is that you will need to be patient and give your body a few months to adjust. You are likely to go through a detoxification period where your body may produce more sweat and odor.
This happens as your body works to rid itself of accumulated chemicals and toxins.
During this time it is a good idea to address the other factors that contribute to body odor.
Improving your diet by limiting your intake of garlic, red meat, and garlic, while also increasing your intake of vegetables, zinc, and water can help minimize body odor.
All Natural Deodorant Brands to Love
If shopping for a safe all natural deodorant makes your head spin, you're not alone. There is so much information to consider, and seemingly endless choices.
Desperate to find a safe all natural deodorant, I did a little cyber digging and found several brands to try.
I'm a bit of a purist when it comes to my natural skin care products. I only want to purchase the safest, least toxic products available.
These all natural deodorant brands are perfect for those who are looking for the safest body odor protection.
Bubble and Bee Pit Putty and Spray Deodorants
Bubble and Bee has a great selection of safe aluminum free deodorants. All Bubble and Bee deodorants are USDA Certified Organic, and contain "No Bad Stuff."
There's nothing toxic about these deodorants! Instead of aluminum and propylene glycol, you'll find natural ingredients like beeswax and essential oils.
Bubble and Bee has one of the largest selections of safe natural deodorants I've been able to find. The best part is, Bubble and Bee natural deodorant comes with a satisfaction gurantee!
This is also a great all natural deodorant for all the leaping bunnies out there! Bubble and Bee is committed to creating safe cruelty free products.
Bubble and Bee Organic 'Pit Putty 100% Organic Deodorant
Bubble and Bee Organic Odor Bee Gone Lemongrass Rosemary 100% Organic Deodorant
Bubble and Bee Organic Odor Bee Gone Truly Herbal 100% Organic Deodorant
Bubble and Bee Organic Lemongrass & Rosemary Deodorant Spray
Bubble and Bee Organic Truly Herbal Deodorant Spray
You can pick up a couple of sticks at Bubbleandbee.com ($9.85). A great way to sample several different scents is to purchase the Pitty Putty Travel Pack ($12.95)
Face Naturals Organic Deodorants
These natural deodorants are chemical-free, paraben free, and aluminum free. Baking soda and organic virgin coconut oil fights odor while arrowroot powder absorbs wetness.
Each deodorant also contains a blend of odor fighting essential oils to leave you feeling fresh and clean.
Face naturals organic Lavender and Lemon Deodorant
Face Naturals Organic Peppermint and Tea Tree Deodorant
Face Naturals Organic Grapefruit and Bergamot Deodorant
Face Naturals Organic Lemon and Clove Deodorant
You can purchase these all natural organic deodorants on the Face Naturals website for only ($10.95). Face Naturals Organic Deodorants are also available in try me sizes for only ($4.95).
Soapwalla Kitchen Deodorant Cream
This powerful all-natural deodorant cream combines superfine vegetable powders and clays with lavender, peppermint, and tea tree essential oils to safely absorb moisture, fight bacteria, and ensure long-lasting freshness.
Resembling the consistency of butter cream frosting, this deodorant cream is easy to apply and quick to absorb.
Soapwalla's deodorant cream is free from toxic chemicals, petroleum, and aluminum. Leaping bunnies rejoice because this deodorant is also vegan and never tested on animals.
You can can find this deodorant at Etsy.com ($10)
Looking For More Natural Skin Care Information?
---
---
Return from Natural Deodorant to Natural Skin Care
---
Disclaimer
This site was created in order to share information about the benefits of choosing natural skin care, and should not be construed as a substitute for medical treatment or diagnosis. The claims about ingredients and products throughout this site have not been evaluated by the US Food and Drug Administration, and are not intended nor approved to treat, cure, diagnose or prevent disease.