Natural Skin Care Recipes, Remedies, and Reviews
Before switching to natural skin care, I happily purchased whatever products were the latest and greatest according to the magazines.
It never occurred to me that I should know what was actually in the products I was using, so long as they did what they promised to do.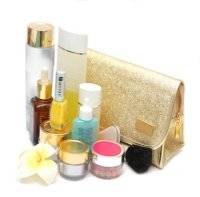 Of course, a tiny bit of research into the ingredients listed on the bottles of my "holy grail" skin care products, and I was shocked. I began to wonder if my money was the only thing I was sacrificing when I slathered on those expensive creams and serums. And so my quest for safer skin care began.
As it turns out, we do have a choice.
We don't have to choose between looking beautiful and being healthy. The fact is, we can reduce our toxic load AND stay gorgeous thanks to simple natural beauty options. No matter what skin condition or problem we're struggling with, Mother Nature has us covered! This website will arm you with the information you need to help solve your most frustrating skin care concerns naturally.

Skin Care Information
No matter what skin condition or problem you're struggling with, Mother Nature has you covered! Skin care information will help you solve your most frustrating common skin problems naturally.

Natural Skin Care Remedies
Natural home remedies are simple, affordable, and effective. Forget toxic creams, serums and lotions, and try simple home remedies instead.

Natural Skin Products
Do you know what to look for when searching the seeming endless beauty aisles for "natural" and "organic" cosmetics. Unfortunately, a lot of so-called natural skin products aren't so natural after all.
Natural Skin Care Reviews
Making the switch to natural beauty products doesn't HAVE to leave you frustrated and your pockets empty. Natural product reviews can help you make an informed decision before shelling out your hard-earned money.

Natural Skin Care Recipes
Homemade skin care recipes are fun, effective, and affordable. While natural beauty recipes aren't always the most practical way of getting our natural beauty fix, they are well worth the time and effort.

Natural Skin Care Oils
Natural oils are truly one of the best kept secrets in skin care. Long before modern day creams, serums, and lotions arrived on the scene, essential oils and plant oils were an important part of daily beauty regimes.

Natural Skin Care Ingredients
Who needs expensive creams, lotions, and skin care treatments when you can create your own at home? There are plenty skin care ingredients to choose from, many of which can be found right in your kitchen!