Protect Your Skin and Health with Natural Sunscreen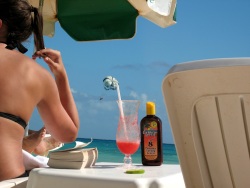 Long gone are the days where wearing a natural sunscreen meant looking like you just stepped out of Michael Jackson's Thriller video.
New natural skin care formulas make use of finely milled mineral ingredients that won't leave you looking ghastly and pale.
The best thing about all natural sun care products, of course, is that they are void of toxic chemicals AND effective at blocking UVA and UVB rays.
Natural sun protection works by forming a film on top of the skin that reflects and scatters UV light.
Chemical sunblocks, on the other hand, soak into the skin, making them more likely to cause skin irritation and allergies.
Chemical sunscreens also contain potentially toxic ingredients including oxybenzone, a hormone disruptor and possible carcinogen.
Try These Top-Rated All Natural Sunscreen Brands
These EWG top-rated all natural sun care brands are perfect for those who are looking for the safest UVA protection. For more safe sunscreen options, be sure to check out Environmental Working Group's 2011 list of best safe sunscreens.
Badger
Badger is is my personal favorite safe sunscreen brand. All Badger sun care products are natural and organic containing 100% USDA Certified Organic plant oils and beeswax.
These natural and organic sun care products do not contain any synthetic fragrances, preservatives, dyes, or chemicals of any kind. Badger products are probably the easiest to locate. I've found them at Whole Foods and Ulta, however, you are likely to find the best deals on the internet.
Badger products can be found in many popular online stores including Amazon and Drugstore.com.
Sunscreen, Unscented, SPF 30+
Baby Sunscreen, SPF 30+
Sunscreen, Lightly Scented Lavender, SPF 30+
Sunscreen Face Stick, Unscented, SPF 30+
Sunscreen, Lightly Scented Lavender, SPF 15
Carribean Solutions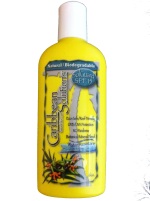 Caribbean Solutions biodegradable sunscreens are non-toxic and reef-friendly. These eco-safe sunscreens are water resistant and contain no parabens.
You can purchase Carribean Solutions sunscreens on the Caribbean Solutions website. You can also find really good deals on these sunscreens at HerbsPro.com and Amazon.
I picked up a bottle at Whole Foods for $16.99, which is quite pricey compared to stocking up online.
Natural/Biodegradable SolGuard, SPF 25
Sol Kid Kare Natural Sunscreen, SPF 25
Goddess Garden
Goddess Garden sun care products protect and nourish skin without harsh chemicals. These sunscreens are also packed with pure certified organic ingredients, and are gentle enough to use on kids. You can find great prices on these everyday natural sun care products at Drugstore.com and Amazon.
Baby All Natural Sunscreen, SPF 30+
Natural Sunscreen, SPF 30+
Kids Natural Sunscreen, SPF 30+
Facial Sunscreen, SPF 30+
Elemental Herbs
Antioxidant rich, chemical free and biodegradable, Elemental Herbs sun care products are safe enough for use on the entire family. These sunscreens offer broad UVA and UVB protection with the added herbal benefits of skin rejuvenation. These products are a bit pricey, however, you can find discounts on Amazon and MotherNature.com.com.
Sunscreen Sport, SPF 20
Kids Sunscreen, SPF 20
Sunstick Zinc Sunscreen, Unscented, SPF 30
Sunscreen Sport, Tinted, SPF 22
Sunstick Zinc Sunscreen-Coconut, SPF 30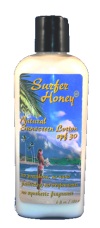 Maui Natural Organics
Maui Natural Organics all natural sun care products contain no PABA, Oxybenzone, Nano particles, or Parabens. These products are currently only available on the Maui Natural Organics website.
Maui Naturals Natural Sunscreen Lotion, SPF 30
Surfer Honey Natural Sunscreen Lotion, SPF 30
Surfer Honey Natural Sunscreen Lotion, SPF 15
Maui Natural Sunscreen Lotion, SPF 15
Purple Prairie Botanicals
Purple Prairie mineral sun care products protect and moisturize with a non-whitening formula. These natural and cruelty free products also contain organic shea and cocoa butters, which are believed to contain natural sun protection as well. These sun care products are pretty reasonably priced and can be purchased on the Purple Prairie Botanicals website and Amazon.
Sunstuff, SPF 30
Sun Stick, SPF 30
Shopping for Safe Sunscreens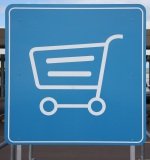 Finding safe sunscreens locally can be tricky, but not impossible. Whole Foods has a great selection of natural sun care products.
I have been able to locate Alba Botanica, Badger, Burt's Bees, Kiss My Face, Lavera, and Jason Natural Cosmetics products at Whole Foods, Ulta, and some Target stores.
Local health food stores are also good place to look.
The internet, however, is by far the best place to purchase natural sun care items in terms of price and selection. You can always find natural sun care products for a great price at Amazon, Drugstore.com, and MotherNature.com.
When shopping for sun care products, don't forget to scan the ingredient lists for potentially toxic chemicals. Always try to avoid the following: Oxybenzone, Vitamin A, Added Insect repellent, sprays, powders, and SPF above 50+.
Instead, opt for sun care products that list Zinc and Titanium dioxide as the active ingredients. These substances protect skin from harmful UVA radiation and remain on the skin, with little if any penetrating into the body.
Looking for More Natural Skin Care Products?
---
---
Return from Natural Sunscreen to Natural Skin Care Home Page
---
Disclaimer
This site was created in order to share information about the benefits of choosing natural skin care, and should not be construed as a substitute for medical treatment or diagnosis. The claims about ingredients and products throughout this site have not been evaluated by the US Food and Drug Administration, and are not intended nor approved to treat, cure, diagnose or prevent disease.