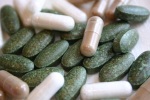 Nutritional supplements and vitamins are key in helping to improve the appearance and health of aging skin.
Effective natural skin care starts with good health, and aging skin can benefit greatly from the right nutritional supplements. Help fight wrinkles from the inside out with the the following vitamins and nutritional supplements.
**Always consult a medical consultant before adding nutritional supplements to your diet.
Vitamin A helps preserve the skin's elasticity, regulates sebaceous glands, and stimulates collagen formation.
Vitamin C (1,000 mg daily) is necessary for collagen production,
Vitamin E (400 IU daily) helps our bodies utilize oxygen better, balances hormonal production, and preserves the skin's elasticity.
Black currants are one of the richest sources of vitamin C and omega 6 fatty acids, which are crucial for healthy skin. Black currant also helps firm skin and reduce fine lines and wrinkles.
Panthenol, a pro-vitamin B derivative, helps skin retain moisture and reduces fine lines and wrinkles.
Zinc (15 mg daily) is an important supplement for healthy skin. It helps synthesize collagen and helps promote cell division, cell repair, and cell growth.