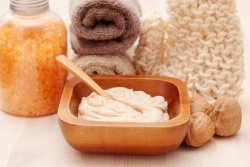 Why slather on artificial fragrances, preservatives, and other potentially toxic chemicals found in store bought body scrubs when you can achieve the same results with simple natural skin care recipes?
Making your own homemade body scrub is super easy, and most ingredients can be found right in your kitchen.
Whip up and use these simple body scrub recipes once or twice a week, and you will be well on your way to revealing super soft and silky smooth skin.
Oatmeal and Almond Body Scrub
1/4 cup oatmeal, finely ground
1/4 cup almonds, finely ground
Mix ingredients and stir well.
Store in clean, dry container.
To use, scoop 1 tsp of scrub in the palm of your hand.
Add enough water to make a paste.
Massage scrub onto skin.
Rinse with warm water.
Natural Beauty for All Seasons: More Than 250 Simple Recipes and Gift-Giving Ideas for Year-Round Beauty
by Janice Cox
Baking Soda and Coconut Body Scrub
1/2 tsp coconut oil
baking soda
Mix coconut oil with enough baking soda to make a paste.
Gently massage paste over skin.
Rinse with warm water and pat dry.
Baking Soda and Olive Oil Body Scrub
This exfoliating homemade body scrub is as simple and inexpensive as it gets, and can be used on the face and body.
1 tsp olive oil
1 tsp baking soda
Mix ingredients together to create a paste.
Massage gently into skin, rinse with cool water, and pat dry.
Coffee Body Scrub
This dual purpose homemade body scrub will leave your skin silky smooth, and looking like you spent the day lounging by the pool.
1 cup warm used coffee grounds.
2 Tbsp olive oil
Combine olive oil and coffee grounds.
Moisten skin in the shower.
Using circular motions, massage scrub onto skin.
Leave on skin for 15 minutes before throughly rinsing.
Oatmeal and Milk Body Scrub
This homemade body scrub is perfect for those with sensitive or delicate skin, and can be used on the face and body. This gentle exfoliating scrub also doubles as a mask when left to dry for 20-30 minutes before rinsing.
1/2 cup ground oatmeal
1/2 cup powdered milk
Purified Water
Thoroughly mix dry ingredients in a small bowl.
Mix 2 tsp of dry mix with 1-2 tsp of water to form a paste.
Massage onto face and throat with fingers.
Rinse with cool water.
Organic Body Care Recipes: 175 Homeade Herbal Formulas for Glowing Skin & a Vibrant Self
by Stephanie L. Tourles
Moisturizing Salt Scrub
2 tablespoon of course sea salt
1 tablespoon of honey
2 to 3 drops of olive oil
Mix the salt and honey well.
Add olive oil to honey and salt mixture one drop at a time.
Stir until a thick paste forms.
Massage on to skin, rinse, and pat dry.
Naturally Skinsational: Rejuvenating Skin Care Recipes
by Sue Dolan