Natural Home Remedies for Oily Skin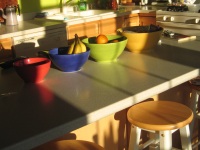 If you are in a constant battle against shine and break outs, nature's pharmacy has plenty of natural skin care remedies to choose from!
The best thing is, most can be found right in your kitchen.
Get rid of oil and shine with these natural home remedies for oily skin.
Apples
Apple for Oily Skin

Apple is exfoliating, mildly antiseptic, astringent, and soothing making it a great home remedy for oily skin.
The malic acid in apple juice exfoliates, absorbs excess oil, and exfoliates dead skin cells. Try this simple apple face mask recipe. If you don't have an apple, bottled apple juice works too!
1/2 apple, unpeeled
Grate 1/2 and apple.
Place the shreds on your skin.
Leave apple on skin for 15 minutes.
Apple Cider Vinegar
Apple Cider Vinegar for Oily Skin

Apple cider vinegar is one of my personal favorite home remedies for oily skin.
Apple cider vinegar makes a great oily skin toner and conditioner. It helps keep oily skin balanced, healthy, and shine-free by restoring it's pH level.
Make your own natural toner for oily skin with this easy recipe.
1/4 cup apple cider vinegar
3/4 cup distilled water
Dilute vinegar with water.
Shake well and apply to skin with a cotton ball.
Cucumbers
Cucumbers for Oily Skin

Cucumbers are one of the best beauty ingredients in your kitchen!
Cooling, astringent, and soothing, cucumbers are great home remedies for oily skin. Cucumbers can also be used to lighten freckles, calm sunburn, and reduce puffiness and inflammation.
Take advantage of cucumbers astringent properties with a cucumber face mask perfect for oily skin.
1 cucumber, peeled
Crush cucumber.
Apply cucumber to face and neck.
Leave on for 10 minutes.
Rinse with cool water and pat dry.
Eggs
Eggs for Oily Skin

While one of the lesser known home remedies for oily skin, egg whites work perfectly as an oil-absorbing face mask for oily skin.
Essential Oils
Essential Oils for Oily Skin

Essential oils can be very beneficial and convenient home remedies for oily skin.
These natural skin care oils help balance, improve, and detoxify the overactive skin.
Basil, cedarwood, cypress, eucalyptus, geranium, rosemary, spike-lavender, and ylang-ylang help normalize overactive sebaceous glands.
Sage and lemongrass slow down oil production and overactive sweat glands.
Using these essential oils in steams and face masks will help unclog pores and encourage the release of excess oil.
Herbs
Herbs for Oily Skin

Herbs help soothe, stimulate, moisturize, tighten, heal, and cleanse the skin making them perfect home remedies for oily skin.
Good oily skin herbs contain astringent properties and include chamomile, peppermint, yarrow, and sage.
To take advantage of these astringent herbs, try a herbal facial steam.
Lemons
Lemons for Oily Skin

Lemon is probably one of the most popular home remedies for oily skin.
Antiseptic and astringent, lemon effectively tightens enlarge pores, lightens skin discolorations, and restores skin's pH balance
Fresh lemon juice makes a great toner for oily skin, but it's too acidic to apply directly on most skin types.
1 tsp lemon juice
1/2 tsp distilled water
Dilute lemon juice with water.
Apply toner with a cotton ball.
&nbsp
Because lemon juice can be so drying, it's also a good idea to moisturize after applying this toner.
Oatmeal
Oatmeal for Oily Skin

Oatmeal is a moisturizer, exfoliator, and itch reliever that also happens to be a great oily skin remedy.
Try a cleansing and exfoliating oatmeal face mask for oily skin and blackheads.
Papaya
Papaya for Oily Skin

Papaya contains natural enzymes that exfoliate and help get rid of dead skin cells.
There are several ways to take advantage of papaya's natural exfoliating enzymes.
You can rub the inside of a papaya peel on your face, leaving the juice on your face for no more than 5 minutes.
You can also try out this papaya face mask recipes perfect for oily skin.
2 Tbsp papaya, mashed
Apply papaya to face and neck.
Leave on for no more than 5 minutes.
Rinse with warm water.
Strawberries
Strawberries for Oily Skin

Strawberries are on of my favorite home remedies for oily skin, and one I use at least once a week.
Strawberries work wonders on my oily skin and black heads, which isn't surprising considering, they contain natural salicylic acid, the active ingredient used in most popular acne treatments.
Strawberries cleanse and tighten the pores while also lightening skin discolorations.
Strawberry face masks are simple home remedies for oily skin.
Tomato
Tomato for Oily Skin

Tomatoes contain natural exfoliants and oil-absorbing acids that balance the skin's pH levels, tighten pores, eliminate black heads, and lighten skin discolorations.
Tomatoes are also rich in natural antioxidants vitamin C and lycopene, which help neutralize free radicals and promote healthy skin.
Tomato also has natural astringent and clarifying properties making it a good age defying ingredient for people with oily and acne-prone skin.
1 tomato
Remove the skin from tomato.
Mash or blend tomato in a blender.
Apply tomato to your face.
Leave on for 15 to 20 minutes.
Rinse with warm water.
Witch Hazel
Witch Hazel for Oily Skin
Witch hazel is another simple home remedy for oily skin.
Witch hazel is a safe and effective astringent for skin that effectively removes surface oils, tightens pores, and tones skin. Apply witch hazel to clean skin with a cotton ball.
Yogurt
Yogurt for Oily Skin

Yogurt contains natural lactic acid that helps moisturize and gently exfoliate the skin.
Yogurt is also effective at lightening skin discolorations and removing extra oil from skin.
Take advantage of yogurt's exfoliating and bleaching properties with a simple yogurt face mask.