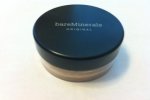 I have oily, acne-prone skin that seemed to rebel each and every time I wore make-up. I hated the way my skin felt, and I despised the way it looked. It always felt as though I had a mask on my face and hated every second of it.
Before Bare Minerals Foundation, I always felt self conscious about how my makeup looked. I was always searching for that dreaded line of demarcation.
And since I have really oily skin, liquid make-up always ended up a blotchy, shiny mess after my pores put in full days work.
Once switching to Bare Minerals Foundation, something miraculous happened. My skin began to behave. The break outs became less and less, and the mask was GONE. It felt so good, and I finally felt free!
I love the way Bare Minerals Foundation feels on my skin. It's as if I'm not even wearing makeup. I no longer fee self conscious about wearing makeup.
Since making the switch to mineral make-up, I have NEVER looked back. I've tried several other brands, but I always seem to gravitate back to Bare Minerals Foundation.